How Does a Lifetime Powertrain Warranty Work?
The promise of a Lifetime Powertrain Warranty may sound great, but what does it mean for you, and how does it work? 
Is it really all that and a bag of brake pads?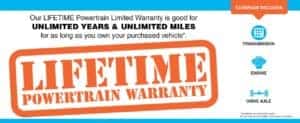 First of all, yes; a lifetime powertrain warranty can be extremely beneficial.  A lifetime powertrain warranty is commonly misconstrued as a "throw-in" dealers sell to you to squeeze the most out of a vehicle purchase.  In actuality, a lifetime powertrain warranty can be beneficial to protecting your car, extending your vehicle's life, and saving you money on what could become expensive repairs without one.  A lifetime powertrain warranty is great for covering the most crucial parts of your vehicle- the parts that keep your car, truck, and or SUV from being better suited as a very costly covered couch.  
However, while most lifetime powertrain warranties feature engine, transmission and drivetrain coverage, there may not be a better lifetime powertrain warranty on the market today than the coverage offered from the Lifetime Powertrain Warranty at Buckeye Honda.  Some dealerships may offer a lifetime powertrain warranty, but it is hard to match the total coverage, service and attention to detail in repairs you will receive by purchasing a new or pre-owned vehicles with our Lifetime Powertrain Warranty from Buckeye Honda.  And with $0 deductible, you'll be hard pressed to find a warranty that offers greater value. 
What separates the Buckeye Honda Lifetime Powertrain Warranty from the competition?
If we didn't love Honda vehicles, we wouldn't be selling them.  At Buckeye Honda, we truly find enjoyment in bringing great Honda vehicles to the Lancaster, Columbus, Newark, Logan and greater areas.  Well, we don't just want to take pride in selling these fantastic automobiles, we also want you to find the complete fulfillment of a Honda when you purchase one from us.  That is why we offer our exclusive Lifetime Powertrain Warranty with your purchase of a New Honda vehicle and or most Buckeye Honda Pre-Owned vehicles (excluding Hybrids). 
Our Lifetime Powertrain Warranty provides the peace of mind of knowing that you are protected against the cost of covered breakdowns for some of your ride's most important parts over the course of your vehicle's life.  That's right, "Lifetime," is not just in the name; your Buckeye Honda vehicle is covered by this warranty from the time you purchase it until the remainder of the time you own it.
Lifetime Coverage and Benefits
What does the Buckeye Honda Lifetime Powertrain Warranty cover? The coverage mirrors the car's factory powertrain warranty except, you will be covered for as long as you own the vehicle, for unlimited miles. 
Engine

 – All internal lubricated parts, engine block, cylinder head(s), exhaust manifold, expansion plugs , harmonic balancer, intake manifold mounts, oil pan (excluding drain plug related failures), rotary engine rotor housing, timing belt/chain and tensioner, timing chain cover, valve cover(s), water pump, electric coolant pump, electric oil pump, diesel accessory vacuum pump, lift pump, injectors and injector pump, manufacturer-installed turbocharger(s), bypass valve(s), blow-off valve(s), intercooler and waste gate(s), manufacturer installed supercharger.

 

Transmission (Automatic, Continuous Variable (CVT), Standard and Transfer Case)

 – All internal / internally lubricated parts, metal cooler lines, mounts, throttle valve cable, torque convertor, flywheel/flexplate, transmission and transfer case housing, transmission cooler, oil pan, vacuum modulator, external and internal control unit, automatic electronic clutches.

 

Drive Axle (Front/Rear/AWD/4 Wheel Drive) –

 All internal lubricated parts within the drive/transaxle assembly and housing, including axles and axle bearings, constant velocity joints, drive shaft support, differential cover, hub bearings, front hub locking assemblies, drive shaft, universal joints, four wheel drive actuator.

 

Filters, Fluids, Lubricants and Taxes

 – Filters, fluids, lubricants and taxes required to complete a Covered Repair for any Covered Part listed above.

 

Seals and Gaskets

 – Seals and gaskets for all Covered Parts listed above when subject to a Covered Repair.

 

Rental car coverage

 for when your vehicle is undergoing a covered repair up to 4 days.

 

$0 Deductible
Protect Your Vehicle for a Lifetime
There are a lot of events that can take place over the course of a lifetime: many things good will happen, but so will the unexpected.  Making sure your vehicle is covered in the case of anything unforeseen is a fantastic way to have peace-of-mind over the things in life you can control.  By purchasing a vehicle from Buckeye Honda with our Lifetime Powertrain Warranty, you can sleep easier at night knowing your car is protected by a dealership that cares.  To see frequently asked questions about Buckeye Honda's Lifetime Powertrain Warranty or just to learn more, visit the page here.