First Race Weekend of 2019!
The Buckeye Honda Racing Team was back at Mid-Ohio Sports Car Course working hard and having lots of fun this past weekend.
The team loaded into Garage #1 on Thursday night to be ready bright and early Friday morning for test and tune sessions.  Friday morning started with cool temp and beautiful sky.  Team Driver and Buckeye Honda Service and Parts Leader, Eric Waddell settled into #ProjectRaceCar quickly and was able to put in some fast times in the early Friday sessions.  Just as the team was looking to make and test a few suspension adjustments in the hunt for faster times and better handling… the rain rolled in.  Crew members and Buckeye Honda Service Pros, Willy and Jos went to work swapping in the rain tires and Eric went dancing in the rain.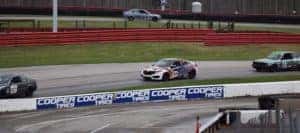 One of the issues not addressed from last season was the windshield fogging up when the track and weather got wet, this posed an issue for Eric in his first rain session but was quickly remedied when returning to the garage after session.  There are a number of ways to address a foggy windshield and with some input from our garage neighbors and a little borrowed shaving cream we lathered up the inside of the windshield.  This method proved to work miracles and on returning to the garage after the next rain soaked session it was evident that Barbasol Shaving Cream will be in our pit box at every race moving forward.
Friday evening ended with some great food with friends and family in the garage.
Saturday  
Saturday saw the skies clear up and was perfect weather for racing.  The team went to work making the adjustments after warm-up to try and find some speed in the corners.  With every adjustment made the car kept getting better and better handling means faster times.  Throughout Friday evening and Saturday morning a number of friends, family and partners came to Mid-Ohio to share in the day and we couldn't have been happier to include them in the days events.  Going into qualifying we saw some of our fastest times of the day and landed the fastest lap of the group giving us the pole position for the afternoon's upcoming race.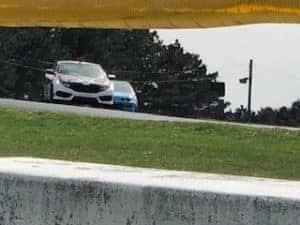 The team took a little time out of the work to spend some time with our guests and Parts Manager Adam Lobdell took control of the grilling duties and prepared us a great lunch.  As time drew near for the start of the race Eric climbed into #projectRaceCar and held off all challengers until the very end when he found himself tucked in behind slower traffic and a hole opened up for the very talented Mid-Atlantic Regional Champion, Zephyr in a very quick Acura Integra to sneak by.  Eric had to choose which line to take when approaching the slower traffic and unfortunately the driver in front of him didn't see it the same way he did.  A second place finish for the first race wasn't a failure and we were off to the dyno truck to get checked in.
The evening ended with friends and family around a campfire enjoying some great BBQ, stories and laughs…. not a bad day if you ask me.
Sunday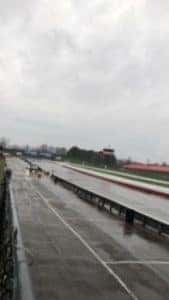 Sunday was met with wind, rain and COLD… oh MY!  The car already prepped for the rain was ready to go with a fresh coat of Barbasol Shaving Cream and rain tires.  Qualifying saw #ProjectRaceCar get faster and faster with each lap landing us on the pole once again.  Prior to our race the NASA GL officials granted us an opportunity to take Willy and Jos out for a few laps with the driving school.  This is when Eric noticed the car was stumbling during throttle and was lacking the usual power and acceleration.  With the hood raised our man Jacob (great crew member, former Buckeye Honda tech and current Snap-On Franchisee Manager) noticed the turbo was glowing orange.  We pulled the spark plugs and after inspection we determined that the turbo must have failed and was most certainly blowing oil.  There would be no race today for Buckeye Honda Racing.  So we packed up and headed home with our heads full of the tasks that need to be completed before our next event over Memorial Day weekend.
We would love to have you join us at the Memorial Day race event.  Check our Instagram and Facebook pages for updates on our upcoming Race Event taking place May 25th and 26th. There will be racing, food, music and lots of fun for the entire family.  You can also register for a chance to take ride in the race car at full speed or opt for the slower parade lap experience.