3 Honda Vehicles That Will Help You Fight Back vs. Rising Gas Prices
Gas Prices Are Going Up: Don't Let Them Get You Down
It's official: the price for a full tank of gas for your vehicle has never been more expensive. 
According to GasBuddy, the leading fuel savings platform saving North American drivers the most money on gas, "The national average price of gasoline in the U.S. today (March 7th, 2022) broke the existing record, rewriting the all-time high to today's $4.104 per gallon.  The previous all-time high was set back in 2008 at $4.103 per gallon, just ahead of the U.S. Great Recession and housing crisis. The national average price of diesel is also nearing a new record, now at $4.63 per gallon, likely to break the record of $4.846 per gallon in the next two weeks" (GasBuddy.com).
Records were meant to be broken but, in this case, nobody wanted to experience the impact of this one be surpassed. 
However, now is the time to fight back by protecting yourself.  While you can't directly punch down the price of crude oil, you can get yourself into a Honda and save yourself from beating up your wallet instead.  Across the board, Honda vehicles are known for their fuel efficiency.  Well actually, they are also known for their industry-leading safety features, precision-crafted style and most notably being some of the most well engineered vehicles on the road today.  BUT, today, vs. the current crisis we as consumers face against the sky-rocketing oil prices, we are going to focus on three Honda models that will have you driving past the pumps without a care in the world.
The Honda Insight
Style Meets Savvy
The Insight comes with high-tech features and full LED headlights to complement a forward-looking design. To match its airy, sporty aesthetic and elegant finishing details, the Insight impresses inside, with a spacious cabin that provides a one-of-a-kind experience for drivers and passengers. This is seriously one SHARP vehicle that will be turning heads of passerby's as much as it will excite you and your passengers inside.  The Insight has plenty to swoon over, from its elegant design to its spacious cabin with brilliant finishes. And with available amenities like a power moonroof, heated front seats and remote engine start, the Insight is one seriously sophisticated hybrid.
A Hybrid Of Style And Power
The Insight features an intelligent, highly advanced hybrid powertrain that received a 55-mpg city rating⁠ and provides an engaging driving experience on any journey.  You're not daydreaming: THE 2022 HONDA INSIGHT GETS UP TO 55 MILES PER GALLON.  Whether you're cruising through Columbus or Lancaster, Ohio, you can focus on the opportunities that lie ahead and leaving the gas stations in the rearview.
IT'S AVAILABLE AT BUCKEYE HONDA RIGHT NOW
There is currently a 2022 Honda Insight available right now at Buckeye Honda.  If you head to 2615 Memorial Dr., Lancaster, Ohio and decide to drive off in this vehicle, you'll be setting yourself up for long term success down the road.  This car is sporty, fun and smart; featuring all the latest technologies a driver could need.  The overwhelming opinion is that this is Honda's most fuel-efficient models and truly one of the most fuel-efficient vehicles available for purchase right now.  Get it today at Buckeye Honda, before someone else gets this Insight.
The Honda Fit
Fun, Fresh, Fit
The Honda Fit totally reimagines the traditional hatchback experience and shines a new light on it; bringing together the elements you know and love with fresh, quirky features such as the 2nd ROW MAGIC SEATS.  The versatile 2nd row MAGIC SEATS of the Honda Fit actually transform into four modes: Utility, Long, Tall and Refresh.  Having the ability to shape itself into the vehicle you want in that moment is just one of the many unique features on the Honda Fit.
Peace of Mind
The Honda Sensing Suite is an intelligent suite of safety and driver-assistive technologies designed to alert you to things you might miss while driving. Combine this with the Multi-Angle Rearview Camera, and you have a car that goes above and beyond as far as safety features and technology goes in its class.  Peace of mind, however, comes from knowing your vehicle has your back when it comes to saving you money as well and few other hatchbacks can truly match up with the Honda Fit in this regard.  36 miles per gallon (hwy) is going to have you thanking yourself for taking home this vehicle.  The 128hp 1.5-Liter i-VTEC 4-Cylinder Direct Injection engine runs on a gas tank of 10.6 gallons.  Think about that for a second.
Let's take the approximate current price of a gallon of gas, $4.10, and say we need an entirely full tank (even though an entirely refilled tank is rarely needed), and multiply it by that 10.6 gallons to get back what a full fill-up would cost.
10.6×4.1=43.46
It would be less than $44 to fill up the Honda Fit and, at 36 mpg, you won't have to stop for gas again for almost 400 miles before filling up again!  Now that's value!
AVAILABLE RIGHT NOW AT BUCKEYE HONDA
We are currently OVERSTOCKED with Honda Fits right now at Buckeye Honda in all sorts of color options and featuring a wide array of our top-notch warranties. If you're in the central Ohio area and are looking to maximize value in your next car in a vehicle that is both unbelievably fun and feisty, all while combating those prices at the pump you keep see going up, the Honda Fit is the car for you.
The Honda Civic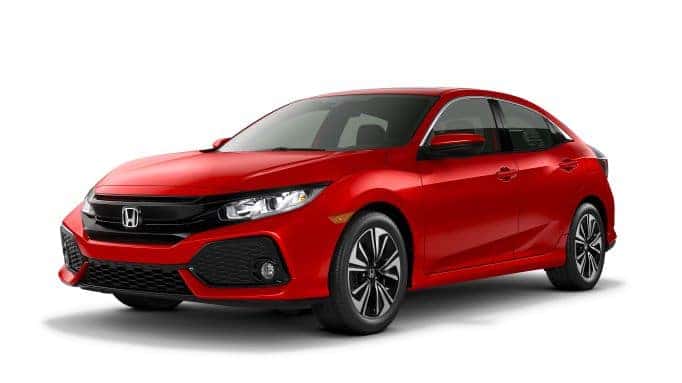 The Ultimate Every-Day Driving Experience
The Honda Civic is engineered for instantaneous response, with a sport-tuned suspension and upgraded powertrain options, including an available 180-horsepower turbocharged engine.  Just because you're trying to cut costs on gasoline doesn't mean you have to cut corners when it comes to your vehicles performance.  The Civic currently sits as the 5th most popular vehicle in America (YouGov), and for great reason.  It's reliability may really be what sets it apart from the rest of its class as, "RepairPal.com also analyzed the cost of ownership for the Honda Civic, which supports its strong reliability rating. Its average total annual cost for repairs and maintenance is $368. By comparison, average ownership costs for compact cars is $526 and $652 for all vehicle models," (Motor Biscuit).  They say a penny saved is a penny earned, well, how about saving literally THOUSANDS a year in gasoline and repair costs by driving a Civic?
A Car That Has It All, But Still Gives You Options
We could go on and on about the Civic all day but there truly is SO much to talk about.  The Honda Civic has so many great options to choose from when it comes to color, trim, exterior, interior, performance, etc.  And it's not even like the Civic just got popular; there are fantastic pre-owned options to pick from including Honda Certified Pre-Owned, which offer Honda Certified Benefits that just can't be beat!  Don't be overwhelmed by the amount of choices you'll have when buying a Civic.  The only thing you can be certain on is that you're going to want to be purchasing your next Honda Civic Vehicle from Buckeye Honda in Lancaster, Ohio!  You can even pre-order online!
Yep, You Guessed It:
AVAILABLE RIGHT NOW AT BUCKEYE HONDA
We got NEW CIVICS, HONDA CERTIFIED PRE-OWNED CIVICS, PRE-OWNED CIVICS, "WRENCH-READY" CIVICS.  The Honda Civic is the car to drive and Buckeye Honda is the place to get yours if you want to save thousands in the war vs. inflating gas prices and almost as much in repair costs while you're at it.  Just make sure you visit Buckeye Honda in Lancaster, Ohio as soon as you can because Civics go FAST.
In Conclusion…
At the end of the day, everyone feels the increasing gas prices and are affected by it (unless you drive an Electric Vehicle, more information on Honda's first EV model coming soon).  However, this doesn't make us helpless in fighting back.  While the consumer doesn't set the gas prices, we have the opportunity to put ourselves in a vehicle that gives us options when it comes to stopping at the pump.  These 3 Honda Vehicles are about the best the industry has to offer, and they make it look good while they do it.  Of course, as mentioned, all three models are available at Buckeye Honda at the lowest prices offered in the Lancaster, Ohio area.
Check out our wide selection of:
Certified Pre-Owned and Pre-Owned Honda Fits
New 2022 Honda Civics (Sedan & Hatchback), Certified Pre-Owned & Pre-Owned Honda Civics, and "Wrench-Ready" Honda Civics
Not only will you be happy to be in such an amazing Honda vehicle; the next time you go to the gas station, you might be the only one there smiling